Damien Nelson – Press Agent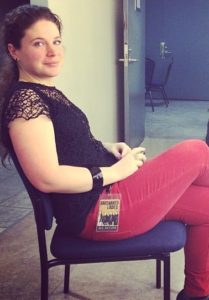 A self-described "Future Publicist" in her Grade 8 yearbook, Damien Nelson knew from an early age she was meant to help artists find their spotlight. Now a seasoned arts and entertainment publicist with 15 years experience, Damien launched Want & Able Arts Consulting to help comedians, musicians, collectives and not-for-profit arts organizations gain the type of recognition and exposure their work deserves.
Starting her career at FLIP Publicity, over ten fabulous years Damien went from publicity intern to Senior Publicity Manager while working on a variety of exciting projects including Prism Prize, and Kent Monkman's Shame and Prejudice: A Story of Resilience. Her big picture approach to PR attracted media attention for NXNE, Empire Comedy Live, MNFSTO10, Red Bull Sound Select, and The Second City.
In 2018, Damien launched Want & Able, offering a robust roster of PR and consulting services for her creative clients. A proactive arts promoter known for being cooler than a cucumber (seriously, a 911 operator said she was the calmest person they've ever talked to), Damien's razor-sharp instincts and accessible communication style make promoting your event a transparent and straightforward process. From press releases to large-scale campaigns, Damien's ability to pinpoint a powerful story makes getting media attention seem like a piece of cake.
Damien is a Producer of the Toronto Sketch Comedy Festival, where she leads communications, programming, and professional development events, and is the primary liaison to the artistic community. Damien is a committee member for the Comedy Album of the Year category at the Juno Awards. She is the editor of Parton and Pearl, a Canadian publication focused on comedy, country music, and the strong connection between the two.
Damien is also a member of CARAS, CMAOntario, and the Canadian Academy, and is a monthly contributor to First Nations Child and Family Caring Society of Canada, imagineNATIVE, Nii'kinaaganaa, Bad Dog Theatre Company, ArtistProducerResource.com, and the Toronto Sketch Comedy Festival.
When she's not in the office or at a show, you can find Damien listening to the Nostalgique podcast while knitting a scarf, or Jack White deep cuts while Instagramming her cat Ferris.